ABOUT CARLOS FIESTA
---
MEXICO TRAVEL INFORMATION * BAJA WALL CALENDAR! * BAJA'S MESSAGE BOARDS * ABOUT BAJA MEXICO * BAJA EXPO'S 34 CITY DIRECTORIES * CABO SAN LUCAS * BAJA NATIONAL PARKS * BAJA MISSIONS * ECO-BAJA * OTHER BAJA CITIES AND DESTINATIONS BAJA TRAVEL INFORMATION * CURRENT BORDER WAIT TIME * BAJA TOURIST CARDS * PESO EXCHANGE & INFORMATION * BAJA TRAVEL BASICS * BAJA TELEPHONES * BAJA DO'S & DONT'S * BAJA SUNSCREEN TIPS * KIDS TO BAJA * PETS TO BAJA * BAJA RECREATION * BAJA FISHING * CABO FISHING * BAJA WHALE WATCHING * IMAX BAJA OCEAN OASIS * BAJA WEATHER INFORMATION * MEXICO SATELLITE WEATHER * BAJA WATER TEMPERATURE * GLOBAL WATER TEMPERATURES * BAJA TRANSPORTATION * BAJA MAP * BAJA DRIVING TIPS * BAJA AUTO INSURANCE * PRIVATE JET SERVICE TO BAJA * BAJA CRUISE SHIPS * CARLOS FIESTA'S BAJA CIRCUMNAVIGATION * BAJA'S NAUTICAL LADDER PLAN BAJA EVENT CALENDAR * BAJA HOLIDAYS & CELEBRATIONS * BAJA BOOKS * BAJA PUBLICATIONS * OTHER BAJA WEB SITES * BAJA ADDICTION QUIZ! * BAJA STORIES * BAJA PHOTOS * BAJA EXPO MARKET * ASK CARLOS * CARLOS RECOMMENDS * CARLOS FIESTA UPDATES * BAJA FREQUENTLY ASKED QUESTIONS * CARLOS HOT TIPS * ABOUT CARLOS FIESTA * BAJA REAL ESTATE * BAJA BUSINESS * A SHOOTER ABOUT TEQUILA! * BAJA COMMUNICATION * BAJA LANGUAGE SCHOOLS * DOGGIE BAG OF SPANISH * BAJA CULTURE * BAJA HISTORY * BAJA DESTINATION UPDATE * BAJA / US BORDER PHOTOGRAPHS * BAJA SPACE PHOTO - BASIC * BAJA SPACE PHOTO - SUPER DETAILED * NASA SPACE SHUTTLE PHOTOS * BAJA EXPO SPANISH VERSION * SUBMIT A BAJA LINK * YOUR OWN BAJA WEB SITE * BOOK A BAJA VACATION * PESOS FOR PROGRESS * MEXICO EXPO ADVERTISING INFORMATION * CONTACT US * CABO EXPO TRAVEL GUIDE * CANCUN EXPO TRAVEL GUIDE * MEXICO EXPO TRAVEL GUIDE *
---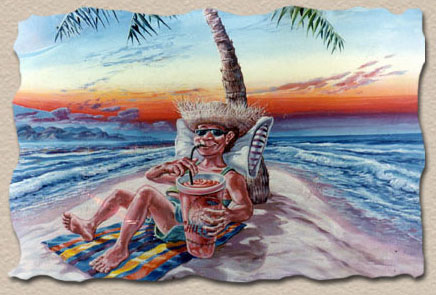 Carlos Fiesta hard at work in Mexico
Carlos Fiesta has a passion for Mexico! He first experienced Mexico as a young boy much like other tourists, visiting the shops in Tijuana on Revolucion Avenue, eating churros and getting his picture taken with the zebra-striped donkeys. As a college students Carlos began to slip across the border to enjoy the surf, cold beers and hot tacos. Soon his casual interest in Mexico evolved into a full-blown love affair. Studying maps, magazine articles and travel guides Carlos' trips became more frequent as he continued to discover and enjoy the diverse flavors of this enchanting country.
Over the decades Carlos has immersed himself in many of the joys offered by Mexico. He has explored Mexico on foot, by horse, inflatable dingy, kayak, motorcycle, dune buggy, boat, car, truck, and motor home. As a pilot he has explored Mexico's wide open skys by airplane and helicopter, and as a Scuba diver he has explored Mexico's spectacular oceans and reefs. And the adventure continues!
In 2001 Carlos bought a 19 foot panga with a 40 horsepower outboard motor and traveled over 2,000 miles from Los Angeles Harbor around Mexico's Baja Peninsula to the mouth of the Colorado River. Soon to be a book, most of the story is now on the web as an on-line publication "A Yuppie Pushes 50".
With the advent of the Internet in the mid 1990's Carlos began to document his travels and publish information on the web to help other travelers wanting to enjoy Mexico. In 1996 he designed his first travel guide about Mexico's Baja Peninsula, Baja Expo. This in-depth Internet site soon gained a large audience and was eventually followed by additional Internet travel guides covering Cabo San Lucas, Cancun and the various travel locations of mainland Mexico. These sites are now all located in the main travel guide of Mexico Expo, which has become the largest travel guide for Mexico on the Internet.
Carlos lives with his family in California and continues to travel to Mexico on a very regular basis. Along with the support of other web professionals and fellow Mexico travelers, he continues to add information and expand his travel guides every day when he is not in Mexico. He has answered hundreds of personal e-mails over the years from travelers who want additional information before heading to Mexico.
Carlos tries to set an example for others who find it hard to take the time to travel. His advice is simple..."pick a destination, block out the time in your calendar, and go for it. The money, job, family and other real-life realities will melt into place like butter on a warm flour tortilla."
So relax, pull up your mouse and enjoy your travels through Mexico Expo. Remember, planning your next trip to Mexico is half the fun!
Back to Top of Page
Back to Baja Expo
Back to Mexico Expo