---
Guerrero Negro (GPS coordinates 28'02 N ~ 113'87 W) is the northern point of entry to the state of Baja California Sur, located just south of the 28th parallel. This working city of 20,000 people is not a main Baja tourist destination. It is basically a support town for one of the world's largest systems of salt water evaporation ponds. This one area produces over three million tons of salt each year! The salt is transported to the coast in huge trucks and then shipped by barge to Isla Cedros, 70 miles off shore. From there the salt is loaded onto ocean going freighters and then on to the rest of the world.
Guerrero Negro's main tourist function is best known as the gateway to Laguna Ojo de Liebra (Scammon's Lagoon) for watching the spectacular California Gray Whales (although Laguna Ignacio further south has been stealing a greater portion of the show over the last few years). The whales begin arriving here in January from the colder waters of the Bering Sea and the coast of Alaska over 3,000 miles away and stay through March to mate, give birth and to watch the tourists watch them. It's an unforgettable experience! It's best to make reservations stateside, just to be sure you can catch the show.
For more information on the Gray Whales, check out the WHALE WATCHING section of Baja Expo.
Due north from Guerrero Negro is Malarrimo Beach, famous for it's spectacular beachcombing. The geographic 'hook' of Baja here collects much of the jetsam and flotsam that drifts down the coast from further north as far up the coast as Alaska and Japan.
South of Guerrero Negro is the vast Vizcaino Desert. This empty terrain features miles and miles of miles and miles. If you are looking for a private place to practice the Macarena where no one can laugh at you, this desert is the place. It is possible to travel a hundred miles here and not see another person.
Most sailors heading up or down the coast don't stop in Guerrero Negro, as the lagoon entrance is not easy and it is a bit of a detour as they round the point at Punta Eugenio. They usually stop at Bahia Tortugas around the point to pick up any necessary fuel or supplies.
Private pilots flying into Baja appreciate the semi-consistent aviation fuel available at Guerrero Negro's main airport just west of Highway One and gringos driving south on the blacktop often spend the night here when they can't quite make it to San Ignacio before dark. If you are getting low on gas, getting a bit hungry, or need a few winks you will learn to appreciate Guerrero Negro!
After many years as a dusty, somewhat unorganized town, Guerrero Negro city fathers set up a plan to improve the feel of the town. Newer curbs, sidewalks and a main street center median complete with palm trees are now in and looking good.
Want to yack with other gringos in town? The best place to find them is the Pemex station on the highway just north west of town. Like the stagecoach stations of old, everyone stops by to get dialed in for the next leg of their road trip here. Whether you need information on road conditions or the location of a good restaurant, this is the place to find out what's happening in the area. The bar at the Malarrimo Restaurant is another good spot to touch base with other Gringos.
The California Grey Whale makes an annual trek from the cold waters of Alaska to the waters of Laguna Ignacio, just south of Guerrero Negro. For more information drop by our WHALE WATCHING section.
If you would like to see what Guerrero Negro and Scammon's Lagoon look like FROM SPACE check it out!
Guerrero Negro was part of the scenery during Carlos Fiesta's 2,200 mile SOLO BAJA CIRCUMNAVIGATION!
To purchase a good map of the Baja Peninsula visit the web site of MEXICO MAPS.
THE GRINGO FACTOR
The town of Guerrero Negro is a genuine Mexican working town and not a popular tourist destination. The main gringo points of interest include the whale watch areas south of town, as well as the Desert Inn Hotel and the Pemex gasoline station located right at the border of Baja California and Baja California Sur on Baja Highway One. Visitors looking for a good meal, a less expensive hotel, or a quick shop stop will often stray into town for these services.
YOUR FIRST STOP IN TOWN
Taking the Guerrero Negro access road off of Baja Highway One leads you west to the downtown area. Although there isn't really an official gathering spot for tourists (aside from the Pemex station), the MALARRIMO RESTAURANT / Hotel / Bar on the right side of the road had offered this unofficial function to Baja aficionados for many years. The whale watch center in the parking lot adds even more value to this as a first stop. Got a few minutes? Step inside the restaurant for a bowl of the finest seafood soup this side of Boston!
THE BEST OF GUERRERO NEGRO
Probably the nicest hotel in Guerrero Negro is the DESERT INN just north of town at the Baja California and Baja California Sur border. The location is boring, right off of the main highway and adjacent to the military housing, but if you are looking for nice accommodations in the area this is a good choice. Guerrero Negro visitors looking for a special dining experience should head directly to the MALARRIMO RESTAURANT on the right side of the main road heading into town. The seafood soup is fantastic! One of the best places in the world to watch the California Gray Whales during thier annual migration (Late January through March) is the lagoon just sout of town. Hang a right at the whale sign on Baja Highway One about 10 minutes south of Guerrero Negro. Like to beachcomb? There probably isn't a better place on the planet than that big "hook" of Baja just northwest of Guerrero Negro at Playa Malarrimo. Items drift to this beach from as far away as Japan. The last few miles of the road leading to this beach get very soft so be careful. Use the Auto Club map to find your way. The best road trip from Guerrero Negro is the two hour drive south east of town into the San Francisco Mountains. The dirt road is usually in good condition for most passenger cars and the expansive mountain and ocean views are awesome. Tours of the Cave Paintings can be made at the tourism office in front of the Malarrimo Restaurant or in San Ignacio.

CARLOS FIESTA'S HOT TIP:Just as you enter town, on the right side of the street, you will find a restaurant/motel that has been the salvation of many a weary Baja traveler for years. Malarrimo Restaurant offers great seafood (especially the seafood soup) and the adjacent motel offers small (but clean) rooms, even if you drop in late at night. Don't miss the whale watch center located in the south west corner of the parking lot. They've got plenty of good information about the whales and whale watching options.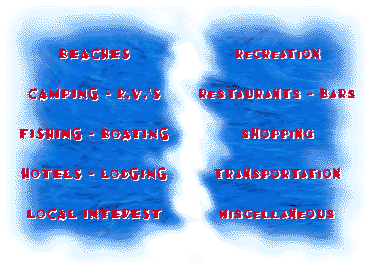 Just north of town there are dirt roads that spur off of the main highway that head to the beaches north of Guerrero Negro. There are also great beaches that can only be reached by boat. These are v-e-r-y desolate!
DUNAS DE SOLEDAD

North of town, take the dirt road west before you reach the agricultural inspection station.
Wonderful sand dunes that connect to the ocean.

MALARRIMO BEACH

A beach and an island north west of Guerrero Negro.
Because of the geographic 'hook' of the Baja peninsula here, tends to collect a variety of items that have floated along the west coast of North America, sometimes from as far away as Japan.
This is beachcombing at it's finest!

Guerrero Negro is not a big camping destination, however camping is certainly an option here. Although it has it's nice weather at times, this area also has it's share of foggy and windy conditions. This makes for less than perfect camping weather, especially since it's just a short drive further to the inland drier, warmer climate of San Ignacio, followed by the spectacular camping on the Sea of Cortez.
GUERRERO NEGRO RV PARK

Baja Highway One, next to the La Pinta Hotel, just north of town.
40 pull-throughs / concrete pads / some hook-ups / restrooms / tents welcome.

Telephone 011-52 (615) 157-0250.
As you enter town, right side of street.
20 sites / full hook-ups / concrete pads / restrooms / hot showers / pool table restaurant / tents welcome.

Fishing and boating in the open ocean north of Guerrero Negro is a unique experience, and despite the lack of good launching facilities water access is easy on most beaches.
The big draw to this area is for it's large, often whale filled bays which are off limits to unpermitted boaters during the whale season. (November 15th through April 15th). The government's goal is to prevent interrupting of the whale's quality time while mating and giving birth in the lagoons.
For more information on obtaining the proper fishing documentation required for dipping your hook in Baja waters check with the professionals at MEXICO ADVISORY SERVICES.
For more information on fishing in Baja drop by our extensive BAJA FISHING section!

The main east - west street running through town offers several options for the Baja traveler looking for a good night's sleep for poco pesos. The Desert Inn Hotel just north of town offers the closest thing to a nice large hotel. The balance of the hotels in town are small, usually clean and serve their purpose well.
DESERT INN HOTEL


Ensenada main office 011-52 (617) 176-2601.
Main office fax 011-52 (617) 176-3688.
Toll free (800) 336-5454.
Corporate address: Avenida Floresta at Bucaneros, Ensenada, Baja California, Mexico.
On the Baja Highway One next to the large eagle monument at the 28th parallel.
Web site: www.lapintahotels.com.
Number of rooms: 28.
Big rooms / restaurant / pool / air conditioning / TV / all rooms facing the beach.
An easy walk to nothing.

COWBOY HOTEL

Left side of the road, as you enter town, before Malarrimo Restaurant.
Number of rooms: 20.
New rooms, clean.
Good rates, large parking lot.
The newest hotel in Guerrero Negro as of 2009.
Kind of like an upper end Motel 6...without Tom Bodet.

CABANAS DON MIGUELITO

Right side of the road, as you enter town, right next to Malarrimo Restaurant. Number of rooms: 20.
Small rooms but clean.
Good rates under $50 for one person.
Restaurant and bar next door are very good!

DUNAS MOTEL

Mid town.
Generic, plain wrap.
clean rooms, inexpensive.

MOTEL EL MORRO

Telephone 011-52 (615) 157-0414.
In town, right side.
Clean, basic accommodations, inexpensive.

Whales are the name of the game in Guerrero Negro! These huge mammals, some of them up to 50 feet in length, endure a 6,000 mile round trip from the arctic waters near Alaska to spend a few weeks basking in the warmer waters of Baja. After nearly being hunted to extinction these spry characters are on a full rebound and their numbers are increasing annually.
From January through March there are several places in town offering whale watching tours. The main whale watch area can be reached by road, 8 miles south of Guerrero Negro, right turn at the small cement whale monument located at K-207. Then continue 17 miles on a graded road. Pangas may be available to take you out for a close look!
While you are in town getting provisions, stop by the new whale watch center located on the main road through town in the Malarrimo Restaurant parking lot. Lots of good info!
Check out the WHALE WATCHING section of Baja Expo for mucho mas information on Baja's Whales!
Telephone (800) 221-9283.
E-mail: timsells4u@aol.com.
Fly-in whale watching adventures into central Baja!

Telephone (800) 843-6967 * (858) 581-3311.
E-mail: travel@bajaex.com".
2625 Garnet Avenue, San Diego, California 92109.
These tours run out of Laguna San Ignacio, south of Guerrero Negro.
A very professional company. Check out their web site for further information!

LAGUNA WHALE WATCHING TOURS

Telephone 011-52 (615) 157-1300 * 011-52 (615) 157-0050.
On the main road in town, on the right side corner.
A first class operation, including study room, maps, all information on whales.
Good vans, good boats and skippers, drop-ins welcome with space available.

Telephone 011-52 (615) 157-0100.
E-mail: malarimo@telnor.net.
23940 Boulevard Zapata, Guerrero Negro, Baja California Sur, Mexico.
Post Office Box 284, Chula Vista, California, 91912-0284.
Just as you enter town, on the right side of the street.
Owner Enrique Achoy can usually help with whale watching arrangements, as well as treks to local cave paintings!.

The lack of consistently warm weather narrows the recreation envelope in Guerrero Negro. However the cooler, windy climate does lend itself to some die-hard sports.
Two good web sites to review for RVer's who want to tour the Baja Peninsula in an escorted RV caravan include BAJA WINTERS and BAJA AND BACK RV TOURS.
For more information on recreation in Baja drop by our main BAJA RECREATION section!
BIRD WATCHING

The marshes west and north of town attract a large variety of species. During whale season lagoon access is restricted.

OFF ROAD

Miles and miles of open space, both east and south of town.
Pack whatever you need, including plenty of water. Safety is no accident.

Visit the web site of WIDE OPEN BAJA for awesome buggy tours of the Baja Peninsula.

SURFING

Some of the best surfing in Baja is located on Isla Natvidad, north west of Guerrero Negro.
Although it is possible to trip out to Punta Eugena and take a panga over to the island, the best way to get to these waves is to fly to the island.
And if you are serious about a Baja surfing adventure check out the web site of BAJA SURF ADVENTURES.

Telephone (800) 221-9283.
Fly-in surf adventures to Isla Natividad!

WINDSURFING

The wind usually picks up in early afternoon, and blows until sunset. Equipment breakdowns are bad news, as there are no supplies within 500 miles. Sailing with the whales is prohibited.

Baja travelers who don't want to leave the highway to grab a bite to eat can stop at Mario's Restaurant on Baja Highway One just north of the town turn off, west side of the street. This large palapa-style restaurant offers a diverse menu as well as a bar and tourist information.
The main road going through town offers plenty of restaurants and taco stands for the hungry hombre and even a couple of bakeries. The seafood here is fresh and usually a good choice. Fish tacos here are often shark meat, and they taste great!
Right side of the street, just as you enter town.
An old standby that has satisfied Baja travelers for many years.
Friday night fiestas!
The jetsom and flotsom hanging on the walls in the bar is worth the price of admission...free!
Seafood is their specialty.
Full bar.

MARIO'S RESTAURANT

West side of Baja Highway One, just before you enter town from the north.
A large restaurant with plenty of parking for RV's, trucks and cars.
Large menu, full bar, tourist information.
Why drive all the way into town when eating is this easy?
Fill up at the Pemex station right across the street!

CARLOS Y CHARLY BAR

Located on the main road going through town, a little bit west of Casuela's Restaurant.
Carlos Diz, a native of San Diego, thought it was time for Guerrero Negro to have a "family atmosphere" bar. He is the owner / bartender Thursday through Sunday evenings.
This is a good place to relax and have a drink, and Carlos will be happy to provide you with information about Guerrero Negro!

LA PALAPA

Located about half way through town, on the left (south) side of the street, corner of Oaxaca.
Specializing in seafood, with a few other options also available.

SUPER POLLO

Located at the far end of town, just past the hospital, on the left side of the street.

This is the place for BBQ chicken in Guerrero Negro! Fresh chicken cooked on an open flame, served up with tortillas and rice. Very delicious!
Take it to go for your road trip, or dine on one of the two interior tables. You can wash your hands in the water barrel in the rear.

Guerrero Negro has a surprising amount of shopping available. Traveling down Blvd. Zapata, a Baja traveler will find pharmacies, bakeries, markets, tire repair shops, liquor stores, and the almighty PEMEX station. Cruising a lap through town looking to see what is available is highly recommended.
Visit the web site of JOHN RAMOS to review his unique and colorful Mexico art work.
CASA EL VIEJO

Located near the entrance of town, right next to Malarrimo restaurant.
A small, clean, and very quaint shop catering to the tourist crowd. Well worth a look.

MINI-SUPER LAS BRISAS

Right side of street, just past Bambino's Pizza.
Good selection for a small store.

Because Guerrero Negro is the only town of any significant size for hundreds of miles in either direction, Baja travelers often utilize this town to refuel, both vehicles and aircraft.
The original PEMEX station has been remodeled, and is located at the far end of town on the right side. The more popular Pemex is now open on the main highway just north of the Big Eagle, on the east side of the street. This is the best place to buy gas for hundreds of miles in both directions.
Two good web sites to review for RVer's who want to tour the Baja Peninsula in an escorted RV caravan include BAJA WINTERS and BAJA AND BACK RV TOURS.
For more general information on transportation in Baja check out our main BAJA TRANSPORTATION section.
AIRPORT

GUERRERO NEGRO AIRPORT

LOCATION: North west of town about 1 mile.

SURFACE: Paved

ELEVATION: 59 Feet

RUNWAYS: 12 / 30

LENGTH: 7,216 FEET

TOWER: 122.8

FUEL: Yes

AIRPORT OF ENTRY: No

COMMENTS: A good long runway, often used by the Mexican Military. Don't be surprised if you see a Hum-Vee full of soldiers sitting at the end of runway 30. They're just keeping an eye on things. This airport can get foggy quite often, but it's a great place to get fuel for pilots heading up or down the coast. If the kids who run the gas pumps are gone to lunch, don't fret. They usually aren't gone more than a half hour.




For information on obtaining travel documents for Mexico such as Tourist Cards, boat permits, fishing and hunting licenses check out the web site of MEXICO ADVISORY SERVICES.

BANAMEX

Far end of town, several blocks past the Pemex, right side.
ATM available, if you want pesos.
It has been reported that this bank has sometimes not been honoring traveler's checks. The next big bank south is in Santa Rosalia, over 150 miles south.

STEEL EAGLE

Just north of town, middle of the main Baja Highway.
This monument marks the division between Baja California and Baja California Sur.
After years of neglect from the harsh salt air, it has been cleaned & painted.

SALT PONDS

West and south of town.
Enrique Achoy at Malarrimo Restaurant can help you with more information.
This is the largest salt producing area in the known universe.

THRIFTY ICE CREAM

On the main road through town, left hand side.
Not the same as back home, but delicious on a hot day!

HOSPITAL

Located at the far end of town, past the Pemex station, on the left side at San Luis Potosi.
Open during construction. A very busy facility with decent capabilities.

CLINIC

On the main road through town, right side.
Not a full hospital, but very well equipped and able to meet many medical needs.

Guerrero Negro real estate for tourists is 'nada'. Unlike most Baja towns near the ocean, Guerrero Negro never really caught on with the retirement or second home crowd. The cool, sometimes windy weather is part of the reason. Another reason is that Guerrero Negro is the last town off of Baja Highway One before the blacktop heads east towards the wonderful seaside villages on the Sea of Cortez, only a few hours away.