BAJAMAR is an seaside resort of beautiful homes surrounded by a spectacular golf course, sitting on rolling hills overlooking the Pacific Ocean. For years this exclusive hideaway has been a true escape for folks looking for solitude or a relaxing environment to play golf.
In addition to the original 18 holes at Bajamar, an additional 9 holes were added, several of which are right on the ocean. (see photo at top of page). This course is called Oceana. For golfers who want that Pebble Beach feel without the hefty price tag, Bajamar is the only game in town.
The resort offers a good restaurant, a large upstairs bar with a 360 degree panoramic view of the surrounding area, plus a complete pro shop and a real estate office.
A very nice low-rise hotel is located near the clubhouse giving visitors a convenient way to spend a couple of days in this golfer's paradise.
The Bajamar residential areas are a shining example of the type of first class housing developments that are becoming more common along Baja's "Gold Coast" from Playa Tijuana to Ensenada. Beautiful homes continue to be built in Bajamar on quiet avenues and on various parts of the golf course. The homes in Bajamar are well constructed and feature a tasteful Spanish motif of white walls and red tile roofs, accented by well kept greens and beautiful Pacific Ocean views. And to think that Bajamar is less than an hour's drive from the U.S. border...that is the icing on the cake!
Bajamar has set the standard for first class golf resorts in Baja. And like a fine Mexican wine from the Santo Tomas Valley in Baja, as time marches on Bajamar continues to improve with age.
Real del Mar was one of the coastal locations that Carlos Fiesta cruised by on his 2,200 mile SOLO BAJA CIRCUMNAVIGATION!
THE GRINGO FACTOR
Bajamar is gringo friendly...no matter how bad your short game is! Even though the green fees are reasonable by U.S. standards, they are high enough to prevent most of the local people from duffing here. The homes surrounding the golf courses are mostly owned by gringos and chances are good that if you pull up to the 19th hole for a cocktail you will be swapping lies with someone from San Diego or Los Angeles.
YOUR FIRST STOP IN TOWN
After driving the meandering road from the gate house and past the greens and new homes, follow the signs to the clubhouse. This large building is designed as an open atrium with the restaurant, bar, real estate office, pro shop and outdoor verandah all steps from each other. For the ultimate perspective of Bajamar, take the elevator (or the stairwell if you dare!) to the top of the 360 degree bar above the clubhouse. The views of the greens and of the Pacific Ocean are spectacular!

CARLOS FIESTA'S HOT TIP: Just a few miles south of Bajamar on the coastal highway heading south the Mexican government has built a rest stop of grand proportions at Punta Salsipuedes. Although the facilities here are a welcome sight for the Baja traveler, the real treat here is the spectacular view. The dramatic vista of the ocean and the rugged coastline and tuna habitat (the round floating nets) is one of the best views to be found in Baja! Food and restrooms are also available.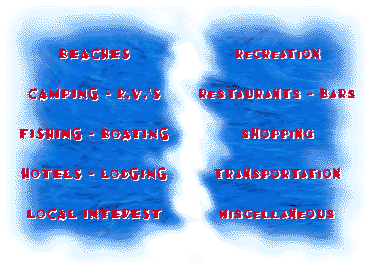 The coastline below the bluffs at Bajamar are mostly rocky. This makes for good beachcombing, but the lack of sand is not inviting to most Baja travelers who want to lay on the beach. If sandy beaches are what you want, the wide beaches just up the road in the La Salina area are hard to beat.
LA SALINA

Just a few minutes north of Bajamar.
One of the best sandy beaches between Rosarito and Ensenada!

SAN MIGUEL

South of Bajamar, just past the toll station.
What this beach lacks in sand it makes up for in well-shaped waves! Get out the boards!

Bajamar does not lend itself to camping, it offers more upscale accommodations. But good camping is available close by.
Both of the following campgrounds are within a 15 minute drive of Bajamar.
PLAYA SALDAMANDO

Just south of Bajamar off the toll road at Km. 95.
100 campsites / toilets / cold showers / dump station / tents welcome / inexpensive.
This is a good place to surf, kayak, snorkel and dive!

SAN MIGUEL VILLAGE

Telephone 011-52 (661) 174-6225.
12 miles south of Bajamar, just past the last toll station.
100 campsites / 30 RV spaces / flush toilets / restaurant / bar / beach.

Bajamar is just a hop, skip, and a jump from Ensenada (about 15 minutes). Fishing can be arranged at the fishing shops on the main tourist streets in town, and at most of the larger hotels.
For more information on Baja fishing check out our BAJA FISHING section!
For more information on obtaining the proper fishing documentation required for dipping your hook in Baja waters check with the professionals at MEXICO ADVISORY SERVICES.
San Diego options include:
CORTEZ YACHT CHARTERS

Telephone (619) 469-4255.
San Diego, California.
Fishing packages to the northern Baja waters.

FISHERMAN'S LANDING

Telephone (619) 221-8500.
2838 Garrison Street, San Diego, California, 92106.
Fleet of over a dozen privately owned and operated fishing vessels.

H & M LANDING

Telephone (619) 222-1144.
2803 Emerson Street, San Diego, California, 92106.
Sports fishing charters to northern Baja waters.

INDIAN SPORTFISHING

Telephone (619) 583-8862.
E-mail: baja@indiansportfishing.com.
6053 Wenrich Drive, San Diego, California, 92120.
Owner/operator Chris Randel has been sharing tight lines in Baja for over 10 years. Check out their web site for more information!

One doesn't have to stay at the Las Glorias to enjoy Bajamar, but it just makes it golfing here so convenient! There are other hotels north of Baja, but few as nice.
HACIENDA LAS GLORIAS

Telephone (800) 225-2418.
U.S. (619) 299-1112.
Carreterra Peninsular Tijuana-Ensenada Km. 77.5, Baja California, Mexico.
U.S. mailing: 416 San Ysidro Boulevard, Box L-732, San Ysidro, California, 92173.
Left of the entrance to the clubhouse.
Number of rooms: 82.
Rooms and suites available.
Pool / Jacuzzi / sauna / steam room / satellite television / laundry / balconies / air conditioning / Dos Lagos Restaurant / El Mirador Tower Bar (awesome 360 degree view!) / Sandtrap Cocktail Lounge / playground / tennis courts / pro shop / putting greens / bike rentals / meeting rooms for 50 people / golf packages available.
Large courtyard / very short walk to clubhouse and golfing.

PYRAMID RESORT

Phone / Fax 011-52 (661) 155-0265.
Located of the free road at Km. 57 near La Mision, 20 miles south of Rosarito Beach, 8 minutes north of Bajamar.
Web site: www.pyramidresort.com.
Deluxe spacious villas with private baths, dining sets, kitchens, fireplaces, private parking, and much more.
Complex amenities includes pool / Jacuzzi / tennis courts / health spa and club house.

The El Mirador rest stop just south of Bajamar is an excellent nearby excursion! The view of the coastline from this lookout point is one of the best in Baja. A restaurant is usually open, and restrooms are available. Open areas can be rented for the day for parties. Bring a camera!
On the way to El Mirador keep your eyes peeled on the side of the highway for two of Baja's mystery rocks. These large boulders sit along side of the road, one painted like a huge frog, the other like a big ol' lady bug!

Golf is what it's all about at Bajamar. The quality of the course has improved considerably under the current management. In addition to the original 18 holes, an additional 9 holes are open (Oceana) with several greens running right along the ocean bluffs! Nine more holes are on the way, and will add new challenges for future visitors.
Two good web sites to review for RVer's who want to tour the Baja Peninsula in an escorted RV caravan include BAJA WINTERS and BAJA AND BACK RV TOURS.
For more information on recreation in Baja drop by our main BAJA RECREATION section!
DIVING
HORIZON DIVE CHARTERS

Telephone (858) 277-7823.
2803 Emerson Street, San Diego, California, U.S.A. 92106.
Located at H & M Landing.
Web site: www.horizoncharters.com.
Single and multi-day dive trips to Baja and her offshore islands.
Dive boats Odyssey and Horizon are perfectly set up for your dive getaway.
A very professional company!
Drop by their web site for additional information.
GOLFING

If you are looking for good golfing in northern Baja don't forget to check out BAJAMAR GOLF RESORT and the golf courses in TIJUANA and ENSENADA!

Telephone 011-52 (615) 5-0161.
Toll free (800) 225-2418.
U.S. (619) 299-1112.
Carretera Transpeninsular 77.5, Bajamar, Baja California, Mexico.
Number of holes: 27.
Rating: 73.5
Par 71 ~ 5972 yards on first 18 holes.
Champ: 6,968 / Men: 5,712 / Women: 4,696.
Carts available.
Putting area / pro shop / restaurant / 2 bars / hotel / golf packages.
The original 18 holes consists of the front nine "Vista" course (view), and the back nine "Lagos" course (lakes).
The "Oceana" course (ocean), offers several spectacular holes right on the low bluffs above the Pacific Ocean! When the waves are crashing against the cliffs, the sea spray will refresh you on several of these holes!
Each of the nine holes has a restroom located about half way through and courtesy carts cruise the course with snacks and drinks.
Golf cart key deposits run $5. The starter window is located on the left side of the club house and most of the staff will do their best to keep you happy.

KAYAK

The coast along Bajamar is good for kayaking, especially in the morning when the water is glassy. From inside the resort, it's best to ask for permission to launch. From just north or south of the resort, launching permission is rarely necessary.

Easier access to the coast for kayaking can be found about 8 miles south of Baja Mar at Playa Saldamando, off the coastal road at Km. 95. The dirt road takes you right down by the water for easy launching! The coast here is usually protected from the wind because of the tall bluffs, so kayaking can be good all day long!

SAILING

HORIZONS WEST ADVENTURES

Telephone (562) 799-3880.
182 Marina Drive, Long Beach, California, 90803.
Web site: www.horizonswestadventures.com.
Sailing trips from southern California to upper Baja, Mexico.
Enjoy a coastal cruise aboard the 73 foot schooner Dirigo II.
Visit their web site for additional information.

SURFING

Because the bottom drops of rather rapidly along the Bajamar coast, the surf usually breaks close to shore. A good surf beach (right break) is available 10 minutes down the coast at San Miguel, right after the toll station. Also, about ten minutes south of Baja Mar at Km. 95, Playa Saldamando offers good waves when a swell is pumping, and rarely gets blown out because the tall mountains block the wind. Check out the web site of BAJA SURF ADVENTURES for more information.

Bajamar features a very nice restaurant in the club house overlooking the putting area and the greens and lakes. The large second story bar literally features a 360 degree view of the surrounding ocean, coastline, and mountains, and the golfers duffing the course. An elevator is available, but the circular staircase is the fun way to get upstairs!
A fun and funky dining excursion for lunch and dinner can be found just 20 minutes north of BajaMar at the oceanfront fishing village of Popotla. This is a piece of Baja coastline that has not yet been taken over by the big-bucks tourist developers even though it is located directly adjacent to coastal development on all sides. Over 30 oceanfront eateries line the shore offering everything from lobster, fish tacos and seafood cocktails. And the prices are as cheap as you are going to find anywhere along the coast. Head north from BajaMar and turn west on the dirt road under the white arches on the south side of Fos Studios Baja.
Baja travelers looking for an excellent oceanfront restaurant 15 minutes north of BajaMar will be impressed with the brand new Villa Ortega Restaurant at the southwest corner of Puerto Nuevo. Carlos Fiesta calls this new hangout the 'best' place on the coast for a meal or drinks between the US border and Ensenada!
Baja Cookbooks by Ann Hazard and other fun Baja information can be reviewed on her web site at BAJA MAGIC.
DOS LAGOS

In the clubhouse, main level, right side of double doors.
Good food, and a great view over looking the putting area, lakes, and greens.

EL MIRADOR

Telephone 011-52 (661) 176-6037.
5 miles south of Bajamar at Km. 84.
Ocean view / seafood - Mexican - steaks / indoor and outdoor dining / bar.

Most visitors to BajaMar arrive by private vehicle. It's so close to the border (less than 45 minutes) that popping down for a round of golf is very easy. For those who want to leave the driving to somebody else, there are other options.
Taxi cabs are very familiar with Bajamar. If there are none near the front security gate or by the clubhouse, they can be summoned rather quickly from Ensenada or Rosarito.
Two good web sites to review for RVer's who want to tour the Baja Peninsula in an escorted RV caravan include BAJA WINTERS and BAJA AND BACK RV TOURS.
For more general information on transportation in Baja check out our main BAJA TRANSPORTATION section.
For professional information on securing all of the required documents necessary for visiting Baja, entry fee information and tourist card requirments you may visit the web site of MEXICO ADVISORY SERVICES or e-mail them at mexinfo@mexicoadvisoryservices.com.
Heading to Baja's border areas and want a head's up on the waiting time to get back in the U.S.? For Tijuana border wait times call (619) 690-8999 and or the Otay Mesa border wait times call (619) 671-8999.
TOURS

BAJA CALIFORNIA TOURS

Telephone (619) 454-7166.
Fax (619) 454-2703.
Custom 3 day, 2 night golf trips. Prices include hotel, golfing with cart, plus breakfast. Packages with transportation from San Diego also available.

BALBOA TRANSPORTATION SERVICES

Telephone (858) 675-3053.
Fax (858) 451-0332.
Custom transportation packages from Los Angeles and San Diego to Bajamar and Real del Mar.

For information on obtaining travel documents for Mexico such as Tourist Cards, boat permits, fishing and hunting licenses check out the web site of MEXICO ADVISORY SERVICES.
BAJA STORAGE
E-mail: info@bajastorage.com.
Km. 23 Carretera Escenica #12540, Tijuana, Baja California, Mexico.
Located just north of Rosarito Beach, on the east side of the highway.
In addition to the original 18 holes, 9 new holes have recently opened up at Bajamar. This "Oceana" course has a few holes located right above the surf, offering great 'Pebble Beach' ocean views. Another 9 holes are on the way, which will make Bajamar the only resort in the state with such a variety!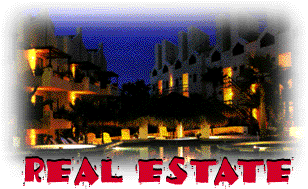 Bajamar real estate is some of the most prestigious real estate developments in northern Baja. This gated collection of homes sits on beautiful rolling hills just above the Pacific Ocean and is centered around 27 fabulous holes of golf. Bajamar Real estate sales consists of existing homes being sold by individual land owners and new homes offered for sale directly from the developer. A condominium complex west of the clubhouse offers spectacular views of the ocean. Bajamar is less than an hour's drive from the border making it a great location for a second home.
REAL ESTATE BROKERS * DEVELOPER PROPERTIES
REAL ESTATE BROKERS
There is a real estate office located in the clubhouse (left side as you enter) and an additional office located at the construction sites. This office is operated by the developer of Bajamar and, although other Brokers handle resales in Bajamar, no other real estate offices are located within Bajamar.
Telephone (888) 289-2407.
In Mexico 011-52 (646) 175-8825.
Web site: www.bajamar-realestate.com.
Real estate sales in Bajamar and surrounding areas.
Baja California real estate broker specializing in selling houses, condos and land in Rosarito Beach and Ensenada.
Certified member of A.M.P.I.
Visit their web site for additional information.
Telephone 011-52 (646) 155-0070 extention 315.
US cell phone (messages) (760) 445-3110.
PMB #1203, PO Box 439060, San Diego, California, 92143-9060.
E-mail: edward27@starband.net.
Web site: www.bajamargolf.com.
Representing buyers and sellers for Bajamar properties.
Homes, condos, lots.
Review their web site for additional information.
Telephone 011-52 (661) 115-0184.
(619) 294-4575.
Fax 011-52 (661) 115-0186.
Fax (619) 299-4344.
E-mail: info@bajamarproperties.com.
Web site: www.bajamarproperties.com.
Specializing in Bajamar properties.
Custom homes, properties for sale and resort information.
Check their web site for more information!