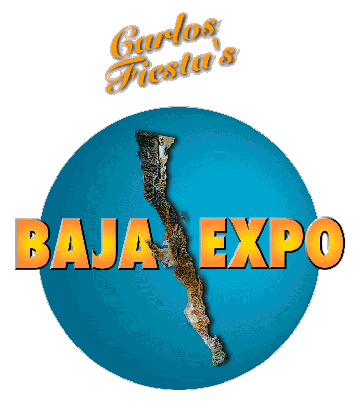 BAJA PROPERTY RENTALS - MEXICALI TO SAN FELIPE
---
BAJA PROPERTY RENTALS - TECATE TO SAN FELIPE
Although there are a few rental homes available in Tecate and Mexicali, the real fun-in-the-sun Baja begins about 123 miles further south in San Felipe.
San Felipe offers a decent selection of hotels, and an increasingly larger selection of private homes and condos for rent. For a day or two the hotels can be fun, but for an extended stay it's nice to hang your hat in a private residence.
For more information on this section of Baja drop by the Baja Expo page of SAN FELIPE.
All listings in this section of Baja Expo are free for the landlords. Simply e-mail your property information to CarlosFiesta@hotmail.com and we'll do the rest.
CASA CRISTAL

Location: San Felipe, Baja California, Mexico.
Price: From $115 per night.
Number of bedrooms: 3.
Maximum guests: 8.
Contact number: On web site.
Web site: http://www.casacristal-sanfelipe.com
Comments: Located directly on the Malecon in San Felipe. Gated patios, fully equipped kitchen, walk to shops and restaurants!

RANCHO LAS JUNTAS

Location: Tecate, Baja California, Mexico.
Price: $1,500 per week.
Number of bedrooms: 4.
Maximum guests: 10.
Contact number: On web site.
Web site: http://www.viviun.com/AD-20539/
Comments: Located in an exclusive community with a gated entry just 20 minutes from the U.S. border. Mountain views, pet friendly.

CASA CRYSTAL

Location: San Felipe, Baja California, Mexico.
Price: Upon request.
Number of bedrooms: 3.
Maximum guests: 6.
Contact number: On web site.
Web site: http://www.sanfelipe.com.mx/business/casacristal/index.html
Comments: Located on the Malecon steps from the beach, TV, VCR, ceiling fans, patio with views of the Sea of Cortez, walk to all of the action!

SAN FELIPE RENTAL

Location: San Felipe, Baja California, Mexico.
Price: Upon request.
Number of bedrooms: 3.
Maximum guests: 13.
Contact number: On web site.
Web site: http://rentalo.com/d/sanfelipe/vacation_rentals.html
Comments: Located on the Sea of Cortez, pet friendly, children welcome, CD, TV, BBQ and many more amenities. Steps to the sand!

LAS CASITAS SAN FELIPE

Location: San Felipe, Baja California, Mexico.
Price: From $110 per night.
Number of bedrooms: 2.
Maximum guests: 4.
Contact number: On web site.
Web site: http://www.vacationrentals.com/vacation-rentals/1865.html
Comments: Located in San Felipe's South Beach 'La Hacienda' development. Complex offers pool, tennis court, and basketball court.

SAN FELIPE CONDO ON THE BEACH

Location: San Felipe, Baja California, Mexico.
Price: From $95 per night.
Number of bedrooms: 2.
Maximum guests: 10.
Contact number: On web site.
Web site: http://www.vacationrentals.com/vacation-rentals/20430.html
Comments: Large condo, over 1300 square feet. Fully equipped kitchen plus great room. Located next to the marina. Enjoy sunrise form the patio!

SAN FELIPE BEACH HOUSE

Location: San Felipe, Baja California, Mexico.
Price: $250 per night.
Number of bedrooms: 3.
Maximum guests: 6.
Contact number: On web site.
Web site: http://www.blueroadrunner.com/Redwagon/lessee.htm
Comments: 3 night minimum, lots of amenities, visit the web site for more information
Back to Top of Page
Back to Baja Expo
Back to Mexico Expo