---
CARLOS FIESTA'S SOLO BAJA CIRCUMNAVIGATION
~ Introduction ~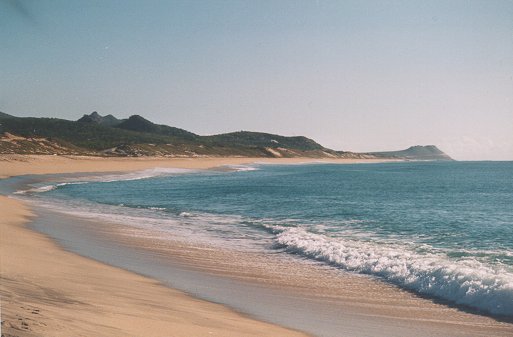 "The Beach"
"Sometimes you think about this beach, sometimes you don't. But whether or not you think about it, it is here, every day, waiting. You may be in traffic, going somewhere in a hurry, rushing. This beach is still here. You may be distracted by the many dramas passing through your life, not even thinking about it. But it is here, always here, waiting. Where is this beach? That is for you to find out. Forget life's destinations long enough to enjoy the day to day journey of hidden beaches, time with friends, and the simple joys of just being alive." ~ Chuck Chambers
I wrote the above quip after one of my first trips to the Cape region of the Baja Peninsula in the early 1980's. I was struck by the truly spectacular beaches...beaches that had been there for thousands of years but that I had never seen before. I wrote that note on a piece of paper and put it on the wall of my home office as a reminder that I always had options in life. It took me another 20 years to finally put all of the elements together to go in search of that special beach. And it took my impending 50th birthday to motivate me to the point of actually planning the trip.
For several reasons turning 50 years old is considered a milestone in one's life. People just seem to love round numbers and 50 is a nice round number. Also it is half of 100, which is a very round number. However most people realize they will never hit the coveted triple digits so the 50th birthday is a biggee.
Being 50 years old isn't usually a problem. Once a person 'hits' 50 they pretty much take it all in stride, right along with ear hair and deteriorating eyesight. But the anticipation of "turning" 50...yikes! That process seems to stir the emotions, and more importantly, make people think about their mortality. As I write this page I am only 49 years old. But I can see the writing on the wall, and there is no getting around the fact that I will shortly be turning 50. Looks like it's time for a mid-life crisis.
Barry Schiff, pilot extraordinaire and contributing editor to AOPA Pilot magazine said it well. "The worst thing about celebrating birthdays is that it compels us to confront and concede to our mortality". Put another way, birthdays are a 'head's up' that we have burned up one more year on the planet and the remaining years are indeed numbered (pun intended).
Most men heading for an impending collision with 50 find themselves leaning towards a few tried and true scenarios. But the most common options just didn't seem to fit my personality. Buy a Harley 'Fat Boy' and cruise up the west coast? Something about sticking my head in a helmet for hours at a time, combined with bugs hitting my teeth at 60 mph, just didn't ring my bell (although the new Harley V-Rod Screaming Eagle is almost enough to push me over the edge). How about having a fling with a pretty young thing to make me feel better about getting older? It sound good in theory, but then as a married man you've got two women in your life that you don't understand. Talk about masochism.
So what is a guy to do to prove to the world (or himself) that he is not getting old? Something outdoors, something fun, something a little bit crazy. How about taking a 19 foot fishing panga over 2,200 miles solo around the Baja Peninsula coastline.
I have always enjoyed traveling into Baja, it is truly a magnificent place that has stirred the soul of many people. Having explored Baja extensively for over 25 years I had developed a special affection for this scraggly finger of land dangling below California. After years of exploring the Baja Peninsula I actually built a travel guide on the Internet to help share the joys of Baja with others who felt the same draw. The Baja Expo web site was then, as it is today, a special passion which gives me even more reasons to explore and write about Baja.
But my offshore experiences in Baja's waters were very limited. I had swam in her coves, surfed her waves, kayaked her estuaries and snorkeled her reefs, but I had only been on her oceans in a boat a few times. Nothing close to justifying the buying of a boat and exploring her entire coastline.
So I had mixed feelings about undertaking such a significant adventure. However my emotions seemed to outweigh the common sense of planning a more reasonable quest, so it was time to actually move forward with this dream.
Probably the last thing a wife of 20 years wants to hear from her soon-to-be 50-years-old husband is that he wants to buy a boat and head into the unknown waters of one of the most desolate stretches of coastline on the planet. I knew from the git-go that it was going to take some special planning to get her stamp of approval on this crazy project. I first mentioned the idea to her at dinner. "Don't you think it would be fun if I bought an inflatable boat and circumnavigated the Baja Peninsula?" Silence. The same kind of silence I heard from her when I asked her to marry me at the St. Helena Inn in California's wine country 20 years earlier. And she gave me the same look that she gave me when I told her it would be "fun" to get married. "Interesting, yes. Fun, I don't know". But the wine got the best of her then and she said yes to getting hitched, so I knew I had an outside chance she would agree to my grand Baja scheme, if I could just get enough alcohol in her.
After fielding silly questions like "is that really safe" and "what about your job?" she finally agreed to the adventure, with the understanding that I made sure my life insurance policy was current and that I left her with plenty of shopping money before I departed. Having finally received her full support, I knew it was time to find a boat.
Initially I thought an inflatable boat would work best for this kind of adventure. Unlike most cruising boats that ply the Baja coast and spend most of their time well offshore, I had planned on beaching my craft often during my journey. So having a boat light enough for me to maneuver back and forth to shore seemed to be a logical priority. But I had set a budget of $10,000 for this entire adventure, and I had planned on spending at least $2,000 for other necessaries such as fuel, port fees and food. Since the nicer inflatable boats that I had my eyes on cost $12,000 to $15,000 I started to get discouraged. For weeks I scoured boating publications looking at inflatables and any other type of boat that might fit the bill.
Finally I ran across a 19 foot panga for sale with a 40 horsepower outboard motor. All of a sudden it hit me. A panga was the type of boat that all of the local Mexican fishermen used on both the Pacific and Sea of Cortez sides of Baja. It was the perfect design to ply the waters and also make those occasional trips through the surf. To make things even better the panga I found for sale was only $7,800 which left me $200 under budget and one happy camper.
I had talked to the owner of the boat on the phone and he invited me to come on out the next day and take a look. He had somebody else interested in buying the boat but promised not to sell it until I had a chance to see it the next day. I was very excited about the possibility of finally finding a boat for my trip and I had a hard time sleeping that night.
The next morning my daughter woke me up and told me that two airliners had just flown into the two New York World Trade Center buildings. It was September 11th, 2001. She turned on the television and I watched in horror as, one after another, the twin towers burned and fell to the ground. It was about as surreal as reality can get. Although I knew that this horrible event would greatly affect our lives, there was no way anyone could fully comprehend how drastically and permanently this act would change the world we live in forever. For hours I tried to understand the drama that was unfolding before me on the television. I eventually got my self together and drove an hour out to Riverside, California to look at the boat.
The panga was everything I had hoped it would be. It was extremely well maintained, seemed to be the perfect length, and the motor started right up as if it were saying "C'mon...let's go to Baja!" The owner and I negotiated a slight discount off of the asking price, I gave him a deposit, and I headed home knowing that the biggest problem for planning my trip had been solved.
During the next 5 weeks I kept busy provisioning the boat with items that would help me with my trip. I bought 5 extra gas containers, a mat and sleeping bag, a life raft, flares, a cooler, and a tool kit. Since I promised my wife that I would keep her informed of my progress on a regular basis, something almost impossible to do in the most remote stretches of Baja, I purchased a satellite phone. Although it was more money than I wanted to spend, I justified the purchase by telling myself that I would be able to use it often on future trips.
Navigation was not a very important need for me as I had planned on being within sight of land during the entire trip. However, as a point of perspective, I did bring along the Auto Club map of Baja, which seemed to show in good detail all of the landmarks along the Baja shore. And just for back up, at the last minute, I bought a GPS. As it tuned out the GPS was helpful for charting my distances between stops, but the Auto Club map was my main daily source of navigation for four weeks.
The Baja Peninsula is a unique piece of the geographic puzzle that covers the surface of the Earth. Ever since this landform broke away from what is now mainland Mexico, the Baja Peninsula has been a very special place. The sliding of the Pacific Plate continues today, moving northwest as the Pacific Ocean rolls in to fill the riff. Baja has become something very close to an island, both geographically and spiritually. Baja's isolation has, for centuries, kept all but the most adventurous beings away.
Historians think the first settlers in Baja were Indians who crossed the Asian land bridge at the Bearing Straight and gradually migrated into North America approximately 10,000 years ago. These native Americans eventually inhabited much of North and Central America, and some say even made it all the way down into South America.
The Indians who dared to explore and inhabit the isolated Baja Peninsula were some of the most primitive of the early explorers. The little that is known about these original inhabitants of Baja suggests that they were some of the most basic of all of the Indians who inhabited North America. They wore essentially no clothing, had no written language, and sustained themselves on a diet of light agriculture, fishing and simple hunting. Most of these people had died out by the middle of the second millennium, although a few did survive into the latter part of the 18th century. The native population of Baja in the 21st century is a mixture of these original inhabitants, mixed with the European lines that began exploring the Baja Peninsula in the late 15th century.
For most of it's history Baja's population was relatively static, consisting of only a few thousand Indians. Those that did settle in this rugged environment usually found a suitable location and stayed put for several generations.
Even though various groups of European explorers visited the Baja Peninsula from 1500 A.D. to 1800 A.D., Baja usually functioned as a stopping point on the way to somewhere else, not a destination unto itself.
During the second half of the 20th century Baja gradually started to become a destination of it's own. People looking for adventure in a natural setting were drawn to Baja and gradually the Peninsula became a great escape for those who wanted to really get away. Those years from the late 1940's through the early 1970's were called Baja's "Golden Years" by Baja author Gene Kira.
As Baja's popularity increased in the late 1900's the reasons for going to Baja gradually evolved. Whereas the early Baja travelers were going to Baja to "get away" from it all, an increasing number of visitors started going to Baja to "go somewhere". Larger towns and tourist attractions were established and offered the conveniences and services necessary to attract a larger number of visitors. The newly completed Transpeninsular Highway and commercial air traffic made travel into Baja an easy endeavor for the common man.
Today the vast majority of people who visit Baja are people who visit this special place to "go somewhere". Several tourists destinations have evolved and have developed the infrastructure that has allowed Baja to be something as simple as a 3-day getaway, or as elaborate as a second home destination. Most of the people that visit Baja today experience very little of what this magnificent peninsula has to offer.
Even though there is a smaller percentage of visitors who travel to Baja today for true adventure, those who do go to Baja to "get away" are still able to find the empty Peninsula of yesteryear. Spectacular pristine beaches, empty palm valleys and hundreds of square miles of unspoiled terrain still await those who want to experience some of the best that nature has to offer. This book is about one more person who headed to Baja to "get away" and enjoyed every second of it.
Previous Page
Next Page
Back to Top of Page
Back to Baja Expo
Back to Mexico Expo