---
CARLOS FIESTA'S SOLO BAJA CIRCUMNAVIGATION
~ Chapter Seven ~
Punta Abreojos to San Juanico
"Happiness is not a matter of events, it depends upon the tides of the mind."
~ Alice Meynell
I initially discovered the village of San Juanico in much the same way I first discovered Cabo San Lucas. In the 1970's I became drawn to Cabo on a map of Baja, the point of land at very tip of the dramatic Baja Peninsula. It looked like it had many of the qualities a Baja aficionado and waterman might enjoy, and Cabo turned out to be everything I thought it would be...and more. The Cape soon became a frequent destination for me, although it has grown immensely since I first swam in her waters.
In 1995, after 20 years of exploring Baja I again spotted a place on the map that seemed unique and well suited for the likes of me. I talked a few friends into making the road trip south, and we arrived at Punta Pequena at about midnight after a 2 day trek. Not knowing where exactly we were when we hit town, we just set up our sleeping bags on the bluffs at the base of the navigation light and fell asleep listening to classical music under the stars. We woke up the next morning to discover one of the most beautiful natural bays in Baja, and a new love affair started that has continued to this day.
So I was very excited when I woke up in Punta Abreojos and prepared to head south to San Juanico. Nobody sleeps in very late in a Baja fishing village, and as soon as the sun came up the Abreojos pangeros were prepping their boats, nets and traps for a new day on the ocean. Because I was anchored just offshore the activity woke me up just as efficiently as the roosters in Bahia Tortugas. I went through my morning routine of checking my map, putting on my life vest and wrapping the leash line that was attached to the motor's kill switch around my ankle. If I ever did fall overboard I didn't want the boat to go too far without me.
Just a few miles south of the village the northern mouth of Laguna Ignacio came into view. This was another huge shallow lagoon where the California Gray Whales visits each year to mate, give birth and watch the tourists watch them. My experience with the last two lagoon entrances at Scammon's taught me that I needed to keep an eye out for the light green and choppy waters that marked the sandy shoals of the lagoons entrances. Soon enough I spotted the white water dead ahead, and made a gradual turn to the west to motor around the shoal.
Most of the whale sightseeing activity in this lagoon takes place on the calm east side of the lagoon, a good 10 miles inland from the ocean. It has been repeatedly confirmed that the whales in this lagoon are friendlier than those of Scammon's Lagoon and Magdalena Bay, and that whale "petting" is common here. Seems that whales are showing a level of smarts not unlike that of dolphins. Maybe this higher level of intelligence is a trademark of mammals in general (aside from a few humans).
Passing the lagoon I took inventory of today's weather...sunny, warm and calm seas. The water temperature had increased to 73 degrees and would continue to rise to 86 degrees when I got to Cabo. I safely negotiated the second entrance shoal for Laguna Ignacio at the south end and began a long coastal run that consisted of dozens of miles of completely empty beaches. I had flown over this stretch of coast in a private airplane years ago and even from the air at 120 miles per hour the beaches seemed to stretch on forever.
Today was another day of dolphins and seals, but many more than I had been used to seeing. In a short 10 mile run I passed over 100 dolphins and at least 20 seals. Where the dolphins usually seemed to enjoy a little play time when the Vaka V. skidded past, the seals would inevitably freak out and frantically take a dive as soon as they realized I was upon them.
The beaches finally gave way to low lying bluffs and then eventually to the huge dark cliffs of Punta Santo Domingo. Even though I was 200 yards from shore and the water was at least 30 feet deep I could see the bottom as clear as if I were in 3 feet of water. This was probably the clearest water I had seen on the Pacific coast so far and I got excited about the snorkeling options that were ahead of me.
Soon I rounded the first of the seven main points that make up Punta Pequena, the headlands of San Juanico, also known as Scorpion Bay. I had surfed most of these seven points over the years but the more I rounded the point the more it became obvious that I wouldn't be surfing this trip. The water was like a lake...a surfer's worst nightmare but a panga man's best dream. I was bummed that I wouldn't be surfing during my stay in San Juanico but very happy to have the calm seas that have made the trip so enjoyable so far.
I pulled up to Juan y Juan beach, a small beach with low lying bluffs and a trail to the top. Above this beach was an oceanfront lot owned by my friend John Fields, which he was planning to put a house on someday soon. This seemed to be the best place for me to walk my gas cans two blocks up to Camacho's place to get gas. I had bought gas from Camacho many times in the past for cars and trucks while in town during surfing adventures, but Camacho was sure to wonder what the heck I was doing walking up to his gasoline depot with 4 empty plastic containers and a 10 day old beard! I told him my story, he told me I was crazy, and he filled up my tanks. He even gave me a ride back down to the beach so I could unload the cans right in front of the boat.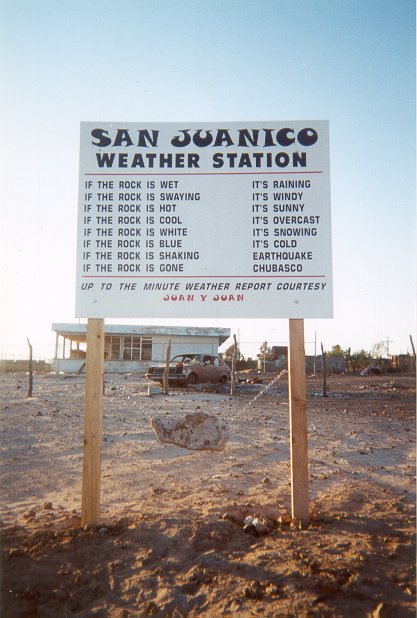 The Juan y Juan weather station in San Juanico.
Loaded with gas and set up for a departure in the morning I was free to hang out in San Juanico and play. The sun was hot and a slight breeze made it a perfect day to just piddle around town. Another buddy John Rellos had given me the combination to the lock on his house three blocks back from the beach and I thought a shower might be a good idea before I started looking for some of the friends I knew who lived in this sleepy village. I brought some of my dirty tee-shirts and shorts from the boat for a mini-laundry detail as well. After a refreshing shower I rinsed out the clothes with fresh water and hung them on the wall to dry. Soap? We don't need no stinking soap!
About mid-laundry my buddy Jamie Adkins pulled up in his truck and greeted me with a big wave. "I heard you were headed this way in a panga, but I never thought you would make it this far" he said with a huge smile. "You owe me a shot of tequila!" I responded. We agreed to meet later on at his house on the point after he finished working. I was now on a quest for food and I knew right where to go.
Eight years ago Jaime had built the Scorpion Bay Cantina. It was a slice of civilization in an otherwise uncivilized place. Sitting on a slight hill overlooking the ocean the Cantina offered hot food, cold drinks, and a cast of characters right out of the Star Wars bar scene. People who dropped out of society for a week or a year and landed in San Juanico usually ended up in the Scorpion Bay Cantina. Luxuries such as flush toilets and taped music were always appreciated by guests, but the hot tip for hungry hombres was their delicious cheeseburgers and fries. This place offered the Cheeseburger in Paradise that Jimmy Buffet sings about. Washed down with a cold Pacifico cervesa it was not unlike dying and going straight to heaven!
Laurie and Dave who run the Cantina had also heard about my boating stunt and were surprised I was running the boat solo. I couldn't imagine doing it any other way. As I sat waiting for my burger I thought about all of the crazy times I had experienced in the Cantina over the last few years.
How could I ever forget the night a Big Mac-sized tarantula walked across the floor of the Cantina heading for my foot while I enjoyed a seafood dinner. One of the Cantina employees decided to rid the restaurant of this furry pest and lit him on fire with a match. In addition to this being a horribly cruel way to eliminate an unwanted visitor there is nothing quite like the smell of a burning tarantula to ruin your appetite.
Another night while enjoying a cold margarita a huge scorpion pranced in from the dirt parking lot and proceeded to entertain the guests. He was a monster and put up a good fight but was eventually ejected from the Cantina back into the wild outdoor evening. There had been many other visitors to the Cantina over the years including bats, centipedes and huge spiders. So it was always interesting pulling up a plate at the Cantina. I enjoyed today's meal with no interruptions and after paying the bill decided to take a walk back into town.
I decided to grab some oil for the boat and cookies for me from Patty's Market. I headed back to pick up my laundry, which was now dry and ready, if not just a bit hard. Fully loaded I took my backpack, a bucket of laundry, 4 cans of oil and a package of Vanilla Wafers back to the Vaca V. And then it was back to town to track down Jaime for that shot of tequila. One shot turned into two and then three, while Jamie consumed an inappropriate share of Rum and Coke. We told each other lies until about 10:00 p.m. and then I staggered on the pitch black coastal path back to the boat to sleep on the sandy beach. Picking a spot just above the high tide line I fell asleep immediately.
Previous Page
Next Page
Back to Top of Page
Back to Baja Expo
Back to Mexico Expo