---
CARLOS FIESTA'S SOLO BAJA CIRCUMNAVIGATION
~ Chapter Sixteen ~
Bahia Concepcion to Mulege
"Finish every day and be done with it. You have done what you could. Some blunders and absurdities no doubt crept in; forget them as soon as you can". ~ Ralph Waldo Emerson
I woke up to another warm and clear morning. It seemed I had experienced perfect weather every day on my trip, and I wondered if my luck would hold out for the rest of the adventure. It didn't, but that's a different part of the story.
Carla and Jim were up and out, and were also amused with my pumpkin masthead Elvira, who was slowly nearing the end of her life in the hot Baja sun. It was a hard decision to make, but collectively we decided it was time to put her down. Seems I had a few choices for her burial.
As common as life is in Bahia Concepcion, so is death. Stories of people sneaking their recently dead spouses across the border in sleeping bags on top of their cars is not uncommon, as the paperwork to do it legally is just too much. Gringos who have decided to live in Bahia Concepcion also find themselves with pets that die while they are south of the border. Getting them back in the U.S. is not always important, but a proper burial often is. Thus it was inevitable that there would be a place to put these cats and dogs to rest in Bahia Concepcion, affectionately called Dead Dog Island. Located about 10 minutes offshore this was the perfect final resting place for Elvira. Rest in Peace, my pumpkin companion.
After the burial ceremony for Elvira, an aged and leather faced Mexican man slowly walked up to me on the beach and asked if I was interested in purchasing the cow skull he had discovered out in the desert, complete with long horns spiraling east and west. Was it mearly coincidence that I just put my last traveling companion to sleep and was in need of a new figurehead for the balance of my adventure home? I think "fate" would be a better word. He started with an asking price of $35. I did not want to beat this poor guy up on price, but the fact was I was getting low on gas money and I had to be careful with my non-essential expenditures. We settled on $18 and some change and I was now the proud owner of a perfectly maintained cow skull. Wouldn't my wife be proud. I placed it on the bow of the boat on a towel, right where Elvira had rested just an hour earlier. Jim had suggested I call him "Tex" and the name stuck like peanut butter on sandpaper. I took Tex all the way to the Colorado River (even though one of his horns fell off in a wind storm south of Bahia de los Angeles). He wasn't Wilson, but he wasn't bad.
I decided to take Tex for a spin, show him around the bay. I headed south even further into Bahia Concepcion to another beautiful bay called Playa Buenaventura. I had met the owner of the resort there several times before, Olivia, and she always kept a clean beach and restaurant. Dropping anchor right in front of the restaurant proved once again that my choice of using a panga for this trip was the right decision. I walked into the spotless restaurant the same time Olivia did, and she gave me a smile and a big hug. Someone had been in the restaurant a few days earlier and informed her of my adventure, so she was not completely surprised at my arrival. I ordered a cold cervesa and a hamburger, complete with fresh avocados, onions and mucho mas. Jimmy Buffet would have been proud...this was truly a Cheeseburger in Paradise.
Soon Olivia's smile turned into a very anxious look. She had just gotten word that the cancelled caravan of 21 motorhomes that was suppose to spend 3 days at her resort were now going to show up after all...in about 30 minutes. And she was almost out of beer! I volunteered to make the run to the nearby village of Mulege to fill up the trunk of her car with Dos Equis, Sol and Tecate cervesa. It was usually a half hour drive from her resort to Mulege up the coast, but the road had gotten washed out from the hurricane in October and the asphalt was missing in several locations. I still made the round trip in a bit over an hour, just as the RV crowd was entering Olivia's bar for Happy Hour.
Olivia was extremely grateful for my help and I was happy to have made the beer run. But I realized it was getting close to dark, and I needed to get up the coast to Mulege to get gas for the boat before it got completely dark. We hugged goodbye and I waded out to the Vaka V. to head north.
It took Tex and I about an hour to reach the mouth of the river at Mulege, officially named the Santa Rosalia River. My plan was to head two miles up the river to downtown Mulege and park the boat along the banks of the river about 3 blocks from the Pemex station in town. After filling up with gas I would head for the Serenidad Hotel for the traditional Saturday Night Pig Roast.
I knew the river was shallow and I had planned my late afternoon trek up the river at high tide to increase the likelihood of a successful gas run. I got about 300 yards up the river when the regular whine of the motor stopped and all hell broke loose. The motor bucked like a mad bull for a time that seemed like forever, and the prop made banging noises against the bottom that made me cringe. I jumped to shut down the motor, but it was too late. As I hinged up the motor to examine the prop it was almost unrecognizable. My heart sank as I realized this might be a significant problem. Although I had brought along an extra prop for just such an emergency, the prop arrived the day before my departure and I did not have the opportunity to try it on before I left Los Angeles.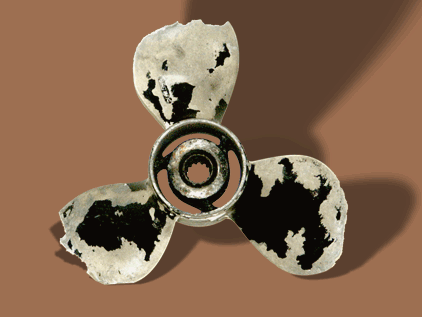 The Mulege River left it's mark on the prop of the Vaka Viti!
Once again I placed the electric motor (that I had hoped I would never need to use) to the transom and slowly made my way over to the dock just west of the Serenidad Hotel. I could hear the music and chatter coming from the outdoor barbecue area and decided that the prop problem could wait until manana. It was time to party!
Walking into the busy outdoor patio area of the Serenidad with my backpack on and my ragamuffin hair left me feeling a bit out of place in the well groomed crowd. Finding a way to be less conspicuous was my first goal. I placed my backpack in a corner by the bar, and slipped into the pool for a quick body rinse and head dip. The evening was still warm and there was really no reason to leave the pool with it's convenient swim-up bar. I ordered a Grande Margarita and was taken back by how large it really was. I sipped my drink and watched the crowd of young and old Baja aficionados mingle the night away.
Many of those in attendance had arrived in small planes, as has been a tradition at the Serenidad for many decades. Don Johnson, the owner of the resort, had always gone out of his way to provide a good runway and a clean hotel for those who dared take their birds south of the border. His daughter Diana was playing an increasingly important role in managing the hotel as a pilot-friendly destination. Some of the pilots attending were part of a group called the Flying Samaritans, who head into Baja from the U.S. on a regular basis to provide free health care to needy villagers throughout Baja. Don's Pig Roast was a traditional stop before they headed back to the States on Sunday morning.
I eventually left the confines of the pool and secured a seat on the dry side of the bar. Before long I was exchanging stories with others around the bar, and the word soon got out that I was the knucklehead trying to circle the Peninsula in a panga. During the middle of a conversation a robust man with an award winning smile walked up to me and said "You aren't Carlos Fiesta are you?". I stood up and sheepishly pleaded guilty as charged. He threw his island-sized paws around me and said "It's me, Captain Mike!". Mike, someone I had never met before but had heard about my adventure on the Internet message boards, had contacted me by e-mail just before I left Los Angeles and asked if he could fly down and meet me somewhere on my journey, and maybe buy me a beer. He flies to Baja often, and thought it would be cool to catch up with me somewhere along the line. But we never set a place and a time to meet, so it was mere coincidence that I ran into him at the Pig Roast. It was great to finally meet him and he did indeed buy me a beer. We chatted throughout the evening and agreed to get together again back in the U.S.
Soon others were buying me drinks to celebrate my journey, and then it was time for dinner. I sat at a table of new friends, each who had questions about my trek around Baja. I was more than happy to oblige them, until the music started. Then I became the target of several ladies who had the urge to dance but nobody to dance with. I did my best to keep them all happy, but finally reached a point where I was all tuckered out and in need of some well deserved sleep. Thoughts of my broken prop filled my sleep and nudged me out of bed early the next morning.
Previous Page
Next Page
Back to Top of Page
Back to Baja Expo
Back to Mexico Expo